Solarize Monadnock 2020
Integrated Solar has been selected as one of the 6 solar installers for this campaign.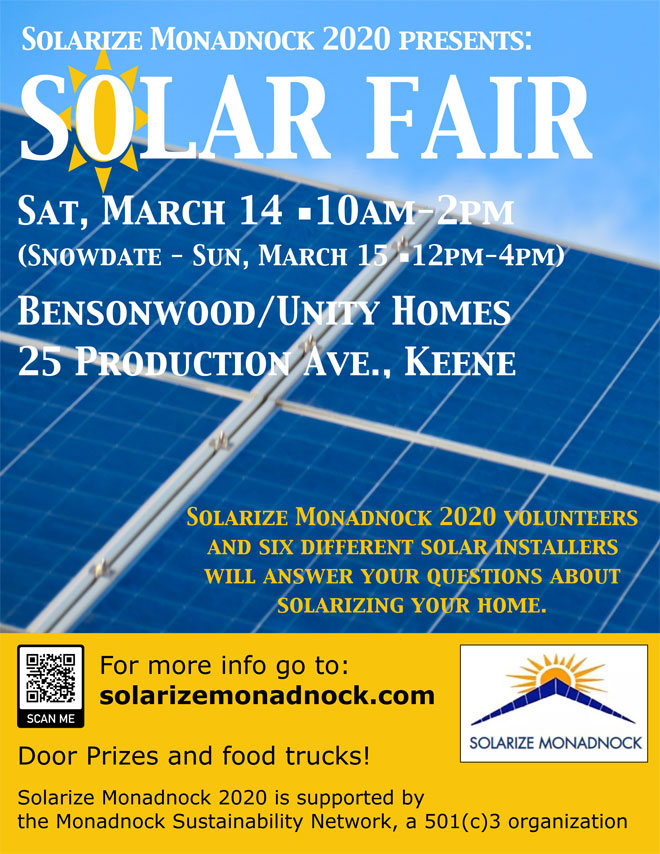 Ready to go solar? New campaign to help residents\
2020 is the last year homeowners can benefit from a 26% federal tax credit offsetting the cost of new solar installations. The Solarize Monadnock campaign is helping local residents and small business owners take advantage of the credit before it's gone. Solarize Monadnock is a community volunteer-led initiative. While all campaign events are open to any residents or small-business owners interested in exploring opportunities to "go solar," 2020 features a particular focus on Keene and Marlborough.
The campaign will launch with a Solar Fair on Saturday, March 14 from 10 a.m -2 p.m., hosted at the Bensonwood/Unity Homes Manufacturing facility at 25 Production Avenue, Keene. The Solar Fair will feature six solar companies from the region: Green Energy Options, Integrated Solar, ReVision, Solar Dave, Solar Wolf, and South Pack Solar. They will offer information about the services they offer and opportunities to sign up for site visits/solar evaluations. Several short educational presentations will be offered during the event, and local residents will be available to answer questions about their experiences with home solar.
Attendees can explore the solar potential of their homes using a unique mapping tool developed at Keene State College that rates the solar potential of rooftops throughout Keene.
Information about the NHSaves energy efficiency and weatherization programs and incentives will be also available. For those interested in weatherization, a https://cleanenergykeene.com/button-up/ presentation is scheduled at the Keene Public Library on Monday, March 23 at 6:30 PM.
At the Solar Fair, door prizes will be offered throughout the day, and a food truck and other light refreshments will be available. Bensonwood/Unity Homes, where the event will be held, is a fascinating facility in itself; Bensonwood designs and fabricates state-of-the-art energy-efficient homes, and a rooftop solar array provides about 60-70% of the energy used at the plant. You can learn about it and other local renewable energy success stories on the City of Keene Sustainability webpage.
The goals of Solarize Monadnock 2020 are supported by the Keene City Council. For Keene, increasing residential solar electricity generation contributes to the City's goal of reaching 100% renewable electricity for the entire community by 2030.
Learn more about solar, the Solarize campaign, and other upcoming Solarize events at SolarizeMonadnock.com and on the Solarize Monadnock Facebook page.
In the event of a major weather event on March 14, notice of postponement of the Solar Fair will be posted on the website and Facebook page. Sunday, March 15 from 12 p.m.to 4 p.m. is scheduled as a snow-date.